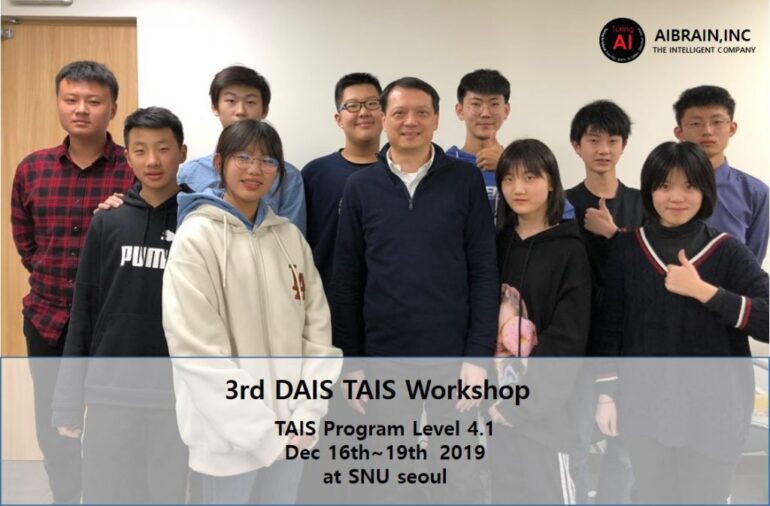 Turing AI School 4.1 with Dalian American International School, China
Dalian American International after-school students for TAIS.
AIBrain offered Turing AI School program for the 3rd time in December, 2019 for a dedicated Middle and High school students on practical AI Learning and Uses. This is a classroom based AI curriculum introducing in a practical way the disruptive technologies emanating from AI field. The general introduction to AI accompanied by hands-on experience exercises give learners a better understanding of what the future holds in terms of convenient living and career choices in AI.
The course covers cognitive systems, machine learning and robotics. The current state-of-the-art technologies are discussed in the context of Game AI, Music AI, Robotics, Conversational AI, and AI in general mobile applications. The best thing is that there is no prerequisite for taking the sessions except a good command of the language of instruction and the willingness to listen, learn and explore.
This was the third time DAIS students were taking this class with significant increase in the number of participants.
Reach out to us for more information on the curriculum offered.
3rd Turing AI School Program (TAIS)
16th to 19th Dec 2019
at SNU seoul .
About AIBrain, Inc.
Founded in 2012, AIBrain is an artificial intelligence company with the goal of building fully autonomous AI by unifying the three essential aspects of intelligence, namely Problem Solving, Learning, and Memory. AIBrain delivers the full autonomy based on its breakthrough technologies: AICoRE (Adaptive Interactive Cognitive Reasoner), a fully autonomous cognitive AI & Memory Graph, AI memory encompassing both episodic and semantic knowledge. www.aibrain.com